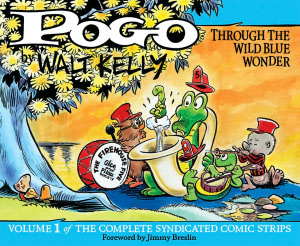 POGO: THROUGH THE WILD BLUE YONDER -- THE COMPLETE SYNDICATED COMIC STRIPS VOLUME 1 BY WALT KELLY
($39.99;
Fantagraphics
)
For many years, the comic strips that deserved legendary acclaim had to be taken on faith. We can watch old movies and TV shows and listen to classic albums and read great books. But practically speaking, many classic comic strips hailed as influential, ground-breaking, hilarious and the like were simply unavailable or in such a bastardized and incomplete form that it was nigh on impossible to judge them fairly. Even something as wildly popular as
Peanuts
wasn't really available to read from start to finish the way you would with any other work of art.
No more. We're finally seeing comic strips receive the attention and care they deserve. Classic works like
Krazy Kat
and
Gasoline Alley
(aka
Walt And Skeezix
) and
Prince Valiant
and yes
Peanuts
are receiving or have received gorgeous reprints in multi-volume sets that for the very first time since they first appeared in newspapers or magazines lets us appreciate the work and see how it's stood the test of time.
The latest to be lovingly restored is
Pogo
, Walt Kelly's strip that I have dutifully recognized as probably one of the greats (according to everyone else, at least) though I'd never seen so much as a single panel of it.
Fantagraphics
has made the wait worthwhile with Volume 1, which covers strips from October of 1948 through December 31, 1950. The book is bursting with useful, entertaining extras, from a foreword by Jimmy Breslin to an in-depth introduction by Steve Thompson that helpfully spells out Kelly's life and the history of the strip to footnotes (called Swamp Talk) by R.C. Harvey. The heart of the book are the daily strips presented with six days of work on every two page spread with the color Sunday comics in a separate section followed by the early daily strips for the New York Star before Pogo was syndicated. Here's a look at this gorgeous, enjoyably hefty volume.
That's all well and fine. The book is lovingly made and the strips presented with care and pleasure. But is it any good? Oh yes. It's funny and charming, bursting with witty wordplay and vivid characters you love immediately. You can see the influence the Marx Brothers and
Krazy Kat
and Mark Twain had on
Pogo
and its love of silly grammatical puns and Southern dialect. And you can see the influence
Pogo
had on
Doonesbury
and
Calvin & Hobbes
in its playful recognition that it was a comic strip (
Pogo
acknowledges letters about the strip just as
Doonesbury
would occasionally open a mail bag to answer reader letters) and gentle humor. The lovably grumpy Porkypine is surely a cousin of Eeyore and (later) Oscar the Grouch. Pogo even ran for President, with the catchy slogan of "I Go Pogo" to counter "I Like Ike."
In short, read
Pogo
and you can immediately see it slide into the pop cultural matrix and how it drew upon the work that came earlier, moved forward the art form of comic strips and influenced artists after it for generations to come. But most of all you'll laugh and savor catch phrases like "We have met the enemy and he is us!" (surely the strip's most famous) as well as Southernisms like "Dog my cats!" and the like.
Pogo
is famous for its political satire but in this first volume the denizens of Okefenokee Swamp are (swiftly) defining themselves. Some modest teasing of newspaper reporters and elections don't really square with the image I had of the strip, but that is surely yet to come. Here we engage in simpler pursuits by Pogo Possum, Albert the Alligator (forever swallowing -- by accident -- fellow critters), Porkypine and the rest. They dive deliriously into baseball in October, take care of a stray pup, search for the Fountain of Youth, try to convince little critters to go to Owl's new school ("It's Saturday!") and so on.
Whether they go digging in the dirt for a square root for math class or insist it ain't cricket to hit a baseball with your tail ("Who's playing cricket?" shouts Albert the Alligator as he rounds the bases. "Look out for Home Run Baker!"), the heart of this first volume is Kelly's delight in language and Southern improvements on it. MIlwaukee is "fraught and ree-plete" with cows and other Western wonders. When Albert tries to learn his numbers he insists that eleven follows seven. "Like the night the day...seven come ee-leven. Anybody knows that!" (The teacher gives up, graduates Albert and makes him a truant officer.) When Owl suggests Pogo actually break some of his New Year's resolutions instead of being a do-gooder, Pogo asks what kind breaks easy. "Any kind I makes," says Owl. "Man, I is got resolutions left over from last year what I isn't even had
time
to break yet!" Pogo responds, "Bring a couple over, size 6 1/2."
Here's a New Year's resolution for you: dive into Pogo, one of the best comic strips of all time. You don't have to take my word for it anymore; you can read it yourself.
BOOKS I'VE READ -- 2011
Unbroken by Laura Hillenbrand *** 1/2
The Songlines by Bruce Chatwin ****
Two Adolescents by Alberto Moravia *** 1/2
King Solomon's Mines by H. Rider Haggard ** 1/2
Cart & Cwidder by Diana Wynne Jones ** 1/2
A Game Of Thrones by George R.R. Martin ****
A Clash Of Kings by George R.R. Martin ***1/2
Just A Dream by Chris Van Allsburg * 1/2
The Good Book: A Humanist Bible by A.C. Grayling
***
Dodsworth in Rome by Tim Egan ***
Prince Valiant Vol. 1: 1937-1938 by Hal Foster ***
Prince Valiant Vol. 2: 1939-1940 by Hal Foster ***
Prince Valiant Vol. 3: 1941-1942 by Hal Foster *** 1/2
A Storm Of Swords by George R.R. Martin *** 1/2
Queen Of The Falls by Chris Van Allsburg ** 1/2
A Feast For Crows by George R.R. Martin *** 1/2
The Greater Journey: Americans In Paris by David McCullough
***
The Great Night by Chris Adrian
** 1/2
Empire State Of Mind by Zack O'Malley Greenburg
The Little Red Pen by Janet Stevens & Susan Stevens Crummel * 1/2
21: The Story Of Roberto Clemente by Wilfred Santiago ** 1/2
The Siege Of Washington by John Lockwood & Charles Lockwood
***
Malcolm X; A Life Of Reinvention by Manning Marable
****
Dawn, Dusk or Night by Yasmina Reza ** 1/2
Unforgivable by Phillipe Djian **
On Being: A Scientist's Exploration Of The Great Questions Of Existence by Peter Atkins **
Mygale by Thierry Jonquet **
Berlin, 1961: Kennedy, Kruschev And The Most Dangerous Place On Earth by Frederick Kempe
*** 1/2
High Strung: Bjorn Borg, John McEnroe and the Untold Story Of Tennis's Fiercest Rivalry by Stephen Tignor ** 1/2
Death At La Fenice by Donna Leon ** 1/2
Death In A Strange Country by Donna Leon ***
My Friend Flicka by Mary O'Hara ***
Drive by James Sallis **
The Magicians by Lev Grossman ***
The Magician King by Lev Grossman ** 1/2
The Buddha In The Attic by Julie Otsuka
****
Fly By Night by Frances Hardinage ***
Thunderhead by Mary O'Hara *** 1/2
The Hypnotist by Lars Kepler
** 1/2
Cocktail Hour Under The Tree Of Forgetfulness by Alexandra Fuller
*** 1/2
East Of The West by Miroslav Penkov ***
Sum: Forty Tales From The Afterlives by David Eagleman ***
Green Grass Of Wyoming by Mary O'Hara ***
A Dance With Dragons by George R.R. Martin *** 1/2
Willie & Joe Back Home by Bill Mauldin ***
The Cut By George Pelecanos ** 1/2
Grand Pursuit by Sylvia Nasar
***/
A Matter For Men: War Of the Chtorrs by David Gerrold **
A Rage For Revenge: War Of The Chtorrs by David Gerrold * 1/2
The Shootist by Glendon Swarthout ***
Sea Of Poppies by Amitav Ghosh *** 1/2
River Of Smoke by Amitav Ghosh *** 1/2
When The Emperor Was Divine by Julie Otsuka *** 1/2
The Sun Also Rises by Ernest Hemingway *** 1/2
Winesburg, Ohio by Sherwood Anderson *** 1/2
Cousins: A Memoir by Athol Fugard **
The Art Of Fielding by Chad Harbach ***
The Rings Of Saturn by W.G. Sebald ****
Siddhartha by Herman Hesse * 1/2
The Marriage Plot by Jeffrey Eugenides
** 1/2
John Henry Days by Colson Whitehead ***
Prince Valiant Vol. 4: 1943-1944 by Hal Foster
***
Civilization: The West and the Rest by Niall Ferguson ** 1/2
Charles Dickens: A Life by Claire Tomalin ***
The House Of Silk by Anthony Horowitz
** 1/2
Cloud Atlas by David Mitchell ****
The Invention Of Hugo Cabret by Brian Selznick ***
The Things They Carried by Tim O'Brien ****
The Leviathan by Joseph Roth (trans by Michael Hoffman) *** 1/2
Five Chiefs: A Supreme Court Memoir by John Paul Stevens * 1/2
Train Dreams by Denis Johnson ***
Where The Red Fern Grows by Wilson Rawls **
Pogo: Through The Wild Blue Yonder -- The Complete Syndicated Comic Strips Volume 1 by Walt Kelly ****
Thanks for reading. Michael Giltz is the co-host of
Showbiz Sandbox
, a weekly pop culture podcast that reveals the industry take on entertainment news of the day and features top journalists and opinion makers as guests. It's available free on iTunes. Visit Michael Giltz at his website and his daily blog. Download his podcast of celebrity interviews and his radio show, also called Popsurfing and also available for free on iTunes. Link to him on Netflix and gain access to thousands of ratings and reviews.
NOTE: Michael Giltz is provided with free copies of books to consider for review, including digital and physical galleys as well as final review copies. He typically does not guarantee coverage and invariably receives far more books than he can cover.