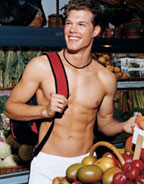 The new Aquaman is actor Will Tole. (The photo comes courtesy of
AquamanTV website
.) He'll star as diving shop owner Arthur Curry ("AC" to his buds) in a new WB TV drama. Tole had a brief cameo in 2003's "Uptown Girls" (playing a briefs model), another tiny role in a TV movie called "Tempting Adam" and then appeared on Broadway in "A Streetcar Named Desire" as the newspaper collector (looking far too strapping for us to fear his corruption by Blanche, frankly). He also appeared on the soap "Guiding Light." The show will film in Florida and debut in the fall.
It's cruel news for actor
Alan Ritchson
. (Not to mention Vince Chase of "Entourage.") Ritchson first popped up on "American Idol" and then landed the plum role of Aquaman on an episode of "Smallville" earlier this season. That show exploded in the ratings and -- thanks to dissing of the superhero on HBO's Entourage -- the underwater icon was suddenly on everyone's lips. A spinoff was inevitable and surely Ritchson must have considered the role his for the taking. But despite the high ratings, Ritchson was exceptionally stiff. (Dialogue like "With me on the surf and you on the turf, we can defeat this guy!" didn't help.) But who would have thunk the WB would be smart enough to see that?